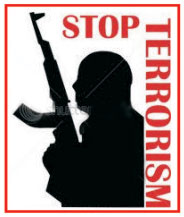 The Anti-Terrorism Front
(An Initiative of Anti-Corruption Front)


CAMPAIGN AGAINST TERRORISM

The Anti-terrorism Front is an initiative of Anti-Corruption Front, is one of those mass movement organizations in India which is continuously supporting peace and discouraging all kind of terrorism on each and every level . ATF launched its national, international peace movement after 26/11 terrorist attack on Mumbai and managed many national and international events on anti-terrorism and peace not only in India but also in different parts of the world. Now again ATF has not only condemned the terrorism in India but supported all actors including Government of India against terrorism by promoting dialogues, banners campaign and national conference.

Objectives:
Familiarize and motivate common masses of India to fight against the cancer of terrorism
Future Plan of Action.
Layout for the National Anti-Terrorism Movement.
Developing national responsibility among the people against war on terrorism
A clear message to the world that India condemns all forms of terrorism and ready to take any step to make this world a safe place to live in.
Committed and united India against terrorism.
Join The Anti-Terrorism Front, as:
Member
Executive Member (State)
Executive Member (National )
Executive Member ( International)
City Gen. Secy.
City Vice-President
City President
State Gen. Secy.
State Vice-President
State President
National Gen. Secy.
National Vice-President
National President
International Director
For more information email
:
info@anticorruptionfront.org